Taco Trucks: Two for One
You can find tons of taco trucks up and down International Boulevard in Oakland, but some that stick out are the ones from Taqueria Sinaloa. I went to Taqueria Sinaloa with a friend and my niece for a light lunch one Sunday afternoon. The north side of the parking lot has the truck that serves fish tacos and the south side of the parking lot has the truck making traditional meat tacos. Since we wanted to try both, my friend and I each stood in different lines.


I stood in line for the meat tacos. My favorite tacos are al pastor which is marinated pork. I like them because they are very saucy and flavorful. My niece likes carne asada which is steak so I got her one of those. Typical street tacos are small, but you can't complain at $1.25 each. I also enjoy munching on the radishes, carrots, and peppers.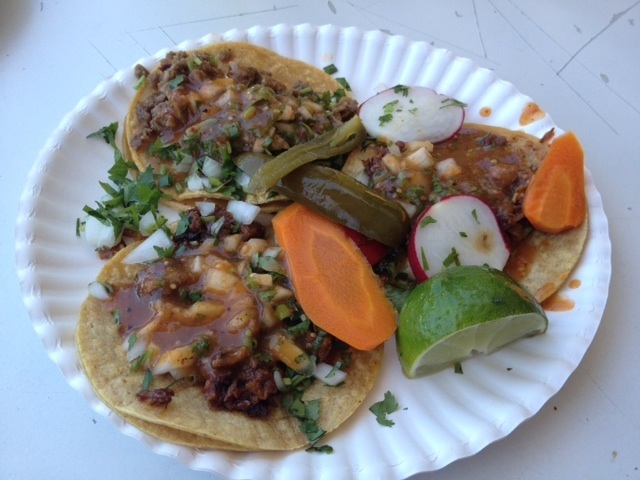 My friend picked us up some fish tacos to try. I was expecting a large piece of fish that is battered and deep fried. The ones we got had small chopped pieces of grilled fish mixed with salsa. I thought these $1.50 fish tacos were really impressive. I even enjoyed them more than my pork tacos which is saying a lot.


Taqueria Sinaloa serves a variety of drinks including agua fresca. My niece ordered strawberry and I got pineapple. They were refreshing like they are supposed to be. My friend also picked up a horchata, rice milk. She really enjoyed it especially with the abundance of cinnamon flavor.


There are a lot of taco trucks out there to try, but Taqueria Sinaloa is one that should be on top of your list. They also have a large amount of open air seating which makes things fun and feel like you are part of a community.