Celebrating in San Diego
This past week I celebrated the big 4-0 in San Diego.  In fact, I'm celebrating an entire week here.  I've been cooking up great food as well as having some great meals.  I couldn't have asked for better weather.  Who would have predicted temperature hitting 90 degrees in November and lowering to 70 degrees on the day I have a bbq so cooking wouldn't be unbearable?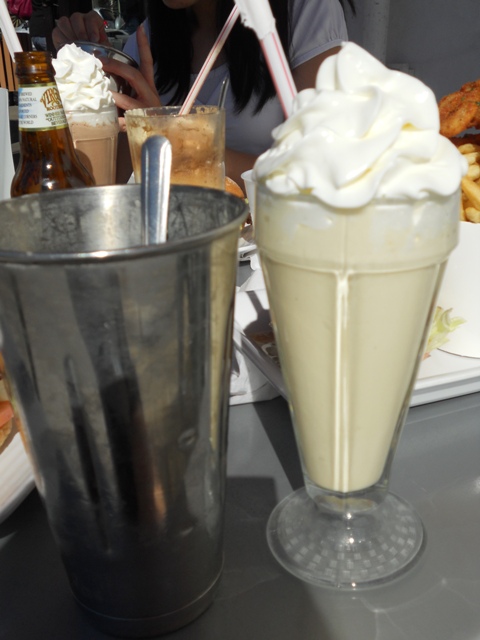 On my actual birthday, a small group of us had lunch in downtown La Jolla at Burger Lounge.  The previous day we had walked around the area and noticed this cute burger joint serving grass fed burgers.  I ordered one of their premium burgers with white cheddar cheese and grilled onions.  My last burger that I devoured was at Roam in San Francisco in July so I was definitely due to have one.  It was delicious and so was the vanilla milk shake.  In addition, my BFF ordered the half and half which was a half order of fries and half order of onion rings.  The onion rings were especially good as they were well flavored and very crispy.  Burger Lounge is a small chain in San Diego County with four locations.
Pizza is one of my favorite foods, so a larger group of us had dinner at Pizzeria Bruno Napolitano in North Park.  We ordered a couple of market salads that had mixed greens, tomato, olives, parmesan cheese, and balsamic vinaigrette.  This was a very average salad.
Our pizza selections were a couple of Margherita pizzas with buffalo mozzarella and the Salsicco pizza which has fennel sausage and broccoli rabe.  The center of the pizza was a bit soggy, but the outside crust had a nice crisp.  The server brought out some of their special chili oil which was a nice touch and definitely spicy.  For dessert, we shared some of their house made cannoli and a pot de creme topped with berry.  Although the desserts didn't woo me, it's always nice to end a meal with something sweet.
I had a great time celebrating with special friends this past week and although I don't have photos, these are my top 5 things I've eaten this past week:
#5  Grilled Portobello Mushroom marinated in an Italian dressing
#4  BBQ Chicken and Pork Ribs in my sister-in-law's secret sauce
#3  Burger from Burger Lounge
#2  Eggplant Parmesan (recipe from Soprano's cookbook)
#1  Grilled Black Cod Japanese style (recipe from Epicurious)
I was pretty impressed with my #1 and #2 as these are the first times I've made either and they were amazing.  So don't be surprised if it comes up in a future blog when I start craving either of those.