You Don't Have to Be a Crazy Rich Asian to Eat at Dragon Beaux
I just got back from a very nice dinner in the City for my book club meeting. We read Crazy Rich Asians by Kevin Kwan and our meeting place was appropriately held at the fancy Chinese restaurant Dragon Beaux in the outer Richmond district of San Francisco.
Dim Sum is usually eaten during brunch, but with its popularity it seems that some high end Chinese restaurants have begun to offer it in the evenings.
We decided to start with a couple of dim sum plates as appetizers. I've been wanting to try out the basket of colorful xiao long bao or soup dumplings. Each order comprises of five dumplings made with different colored skin or wrappers. The green wrapper is made with spinach and has kale, the black wrapper is made with squid ink and has black truffle, the bright yellow wrapper is made with tumeric and has crab roe, the red wrapper is made and filled with beets, and the beige colored wrapper is the traditional one made with juicy pork. I tried the tumeric and squid ink ones. They were innovative and fun to try once. I would probably stick to tradition in the future.
We also ordered the wild mushroom and chicken buns. These soft bao are colored to appear to look like giant shiitake mushrooms. They were light, delicious, and so cute! I would definitely order these again.

The Peking duck was quite tasty, but I was a little disappointed that the skin was not crispy. It was nice that the plate included twelve buns so we could each make two sandwiches of duck skin, cucumber, scallion, and hoisin sauce.

The pea sprouts with garlic was our vegetable of choice. If you have never tried the large ones, they taste a lot like spinach. This is always a safe vegetable to order.

The mapo tofu is a spicy dish made with soft tofu and ground pork. This was one of the best prepared versions of this dish that I have ever had. The gravy makes it go well with white rice.

The last dish we ordered were the spot prawns in rice noodles. It was nice that our waiter evenly plated this dish for us. Everything about this dish was fresh and I'm glad we noticed this on the special's menu.

Finally, we selected the crispy organic milk roll. I didn't plan to eat one of these because I was quite full, but it came with six. I would describe it as fried dough filled with milk pudding. It was much better than I expected.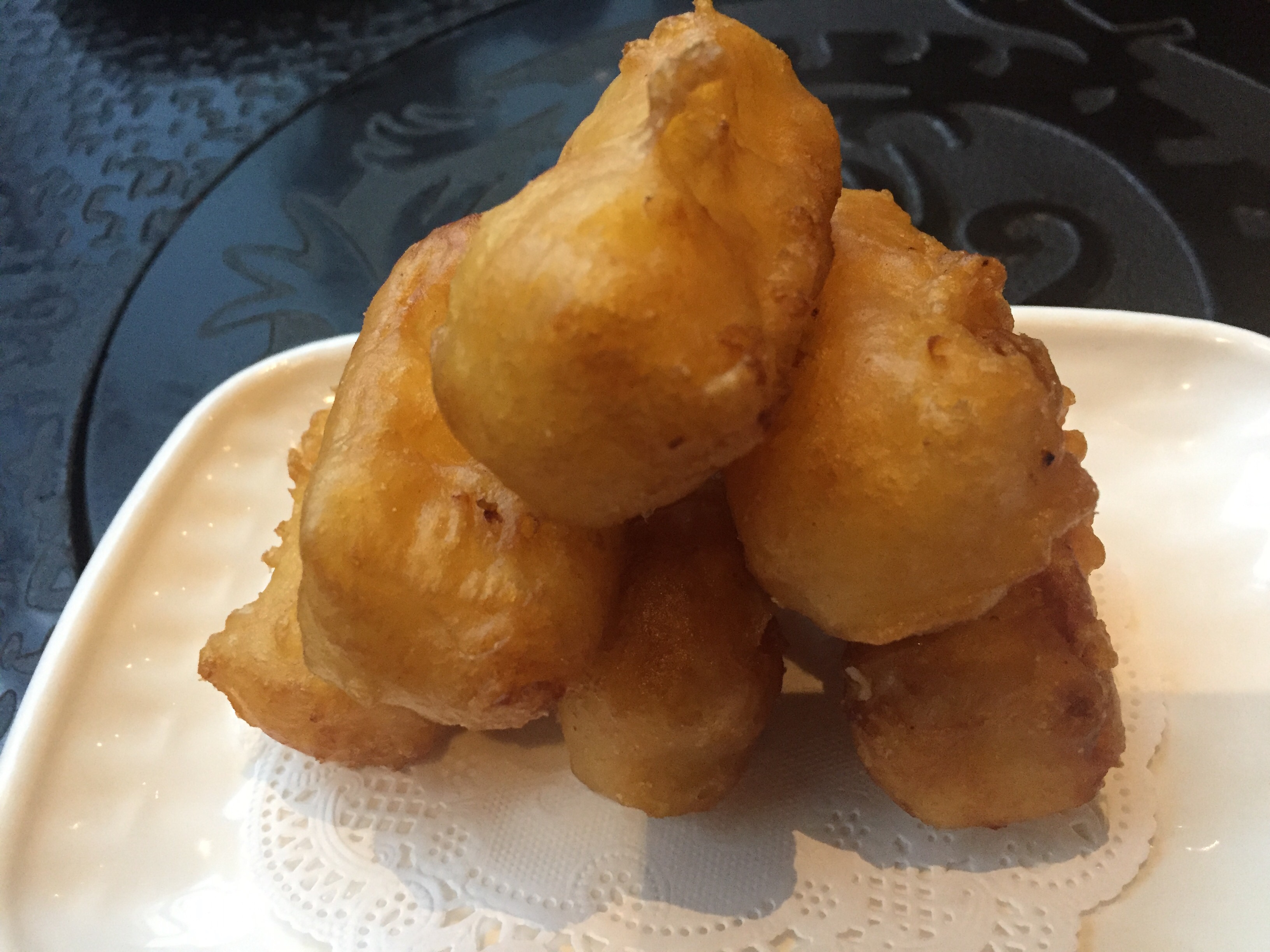 They provided us with a couple of complimentary desserts. One was the sesame mochi made with raspberry and the other were almond cookies. I enjoyed the mochi, but the cookies were a bit dry.

I was very satisfied with my meal at Dragon Beaux. Coming from Oakland, it is a bit of a trek to get there, but I would definitely come back.  The six of us paid $35 each including tip and two of us had beer. You don't have to be a Crazy Rich Asian to eat here!