Best of Sacramento: Biba Restaurant
On my way to Lake Tahoe, my friend and I stopped off at Biba Restaurant in Sacramento.  This is my third time dining at Biba, but my first time having lunch there.  Biba is rated the best Italian restaurant in the area and receives lots of praise from various food magazines.  They have been running inexpensive two course pre-fixed lunch menus and three course pre-fixed dinner menus.  I was looking forward to the pre-fixed lunch, but with the days special a Panini, the regular menu was more attractive. 
We started with a wonderful salad of string bean and cherry tomatoes served with EVOO and balsamic vinegar.  They used french green beans which I love and it was blanched perfectly.  It's nice when you order a salad to share, and they split the salad onto two plates before bringing it out.  I would really like to know what kind of EVOO and balsamic vinegar they use because I can never make such a tasty oil and vinegar dressing on my own.  The oil is sort of buttery and the vinegar is not too strong.  I would consider duplicating this particular simple salad.  It's light, healthy, and tasty.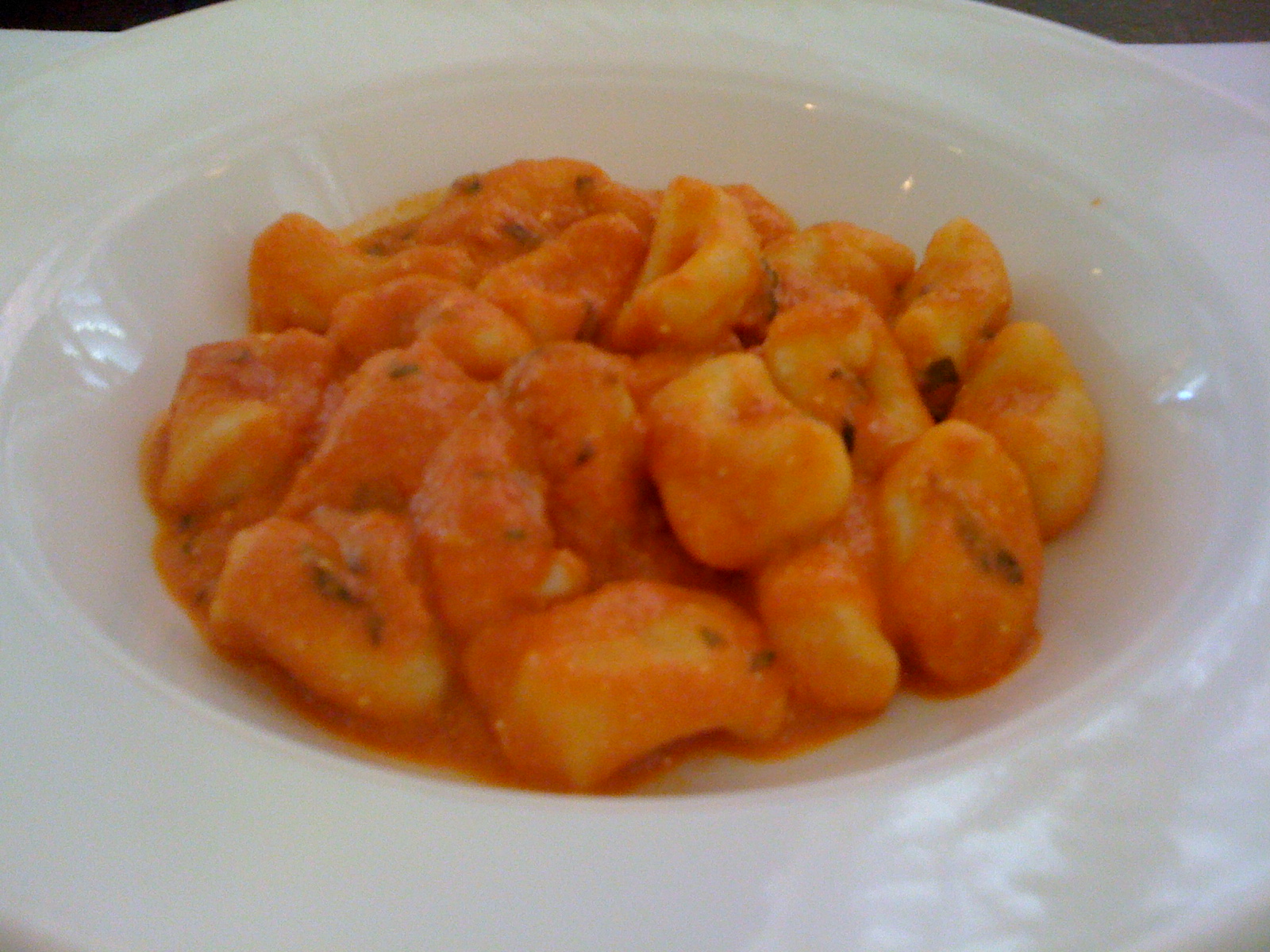 My friend ordered the gnocchi.  It changes daily.  I remember that I ordered it once and loved it.  In her words, "the gnocchi was very delicate, billowy clouds of potato goodness."
I was immediately drawn to the pollo when I reviewed the menu.  I am a fan of chicken especially if done correctly.  This one was a free range baby chicken with paprika and rosemary and grilled under a brick and served with roasted potatoes and fresh asparagus.  They had me at brick.  The chicken was tender and oh so flavorful.  I really enjoyed the smoky flavor that the brick provided.  The skin was crispy and generated joy in my mouth.  Even my friend who does not like chicken said she would order it.  The potatoes and vegetables (bonus were the fresh peas and carrots that I didn't expect) were great compliments to the chicken. 
For dessert, we shared the tiramisu.  It was light, creamy, and delicious.  It had a good balance of cake and cream.  I especially liked the shaved chocolate that covered it unlike many that uses cocoa powder.  I've also had tiramisu in the past that is drenched in too much alcohol and this one did not.  I just learned that tiramisu is made up of ladyfingers that are either dipped in espresso or rum.  My assumption is that the one at Biba is dipped in espresso and that appears to be the way I like it.
Overall, we had a great lunch.  But before we left the restaurant, my friend and I were perusing her new book "Biba's Taste of Italy."  Along with recipes, this book has lots of good cooking tips.  I asked the host if Biba was around to sign one of her books.  He said yes.  He took down my name for her to personalize it.  I asked if she would also be available to take a photo.  He called her and she agreed to come up and sign the book and take a photo.  All I can say is that it was awesome.  She was very gracious and my friend and I really appreciated the fact that she came out to say hello, sign our books, and take a photo.  I can't wait to cook up one of Biba's recipes!