Point Reyes/Tomales Bay, California
Earlier this month, Michael Bauer posted his Top 100 Best Restaurants in the San Francisco Bay Area. Osteria Stellina (opened in November 2008) in Point Reyes Station made the list and forced another restaurant Nick's Cove in Tomales Bay about 2 miles North off the list.
I spent the weekend in the beautiful Point Reyes area and visited both restaurants. This was not my first time at either restaurant. I have gone to Osteria Stellina earlier this year and have been to Nick's Cove two times previously and both restaurants serve great food. I appreciate that most of the restaurants in this area support Marin Organics, an association of organic producers in Marin County committed to promoting and supporting sustainable foods. My friend and I decided to each order a starter and share a pizza.
The starter I chose was "Beans & Greens" — simmered rosemary cannellini beans with braised greens. This dish came out with the beans on one side and the greens on the other. I mixed them together and enjoyed. The beans were nice and creamy and the greens were cooked down and left a light bitter flavor that went well together.  My friend enjoyed the "Acini di Pepe en Brodo" — tiny pasta in chicken broth with parmigiano & parsley. (Sorry no photo) I tried the soup and it was light and comforting. I grew up on the brothy type soups and prefer them over thick and creamy ones.
The hostess/waitress came out to tell us that she could not serve us our oyster pizza because between the oysters and the leeks, it came out soggy. This was the first time I ever had someone tell me they couldn't serve something and reminded me of Hell's Kitchen when the chef would always remind the contestants that they couldn't serve something that was not of the caliber expected. This was also interesting to hear because this is one of their specialty items. I would think that this should have been perfected by now. She didn't offer to remake the pizza, she suggested a different pizza.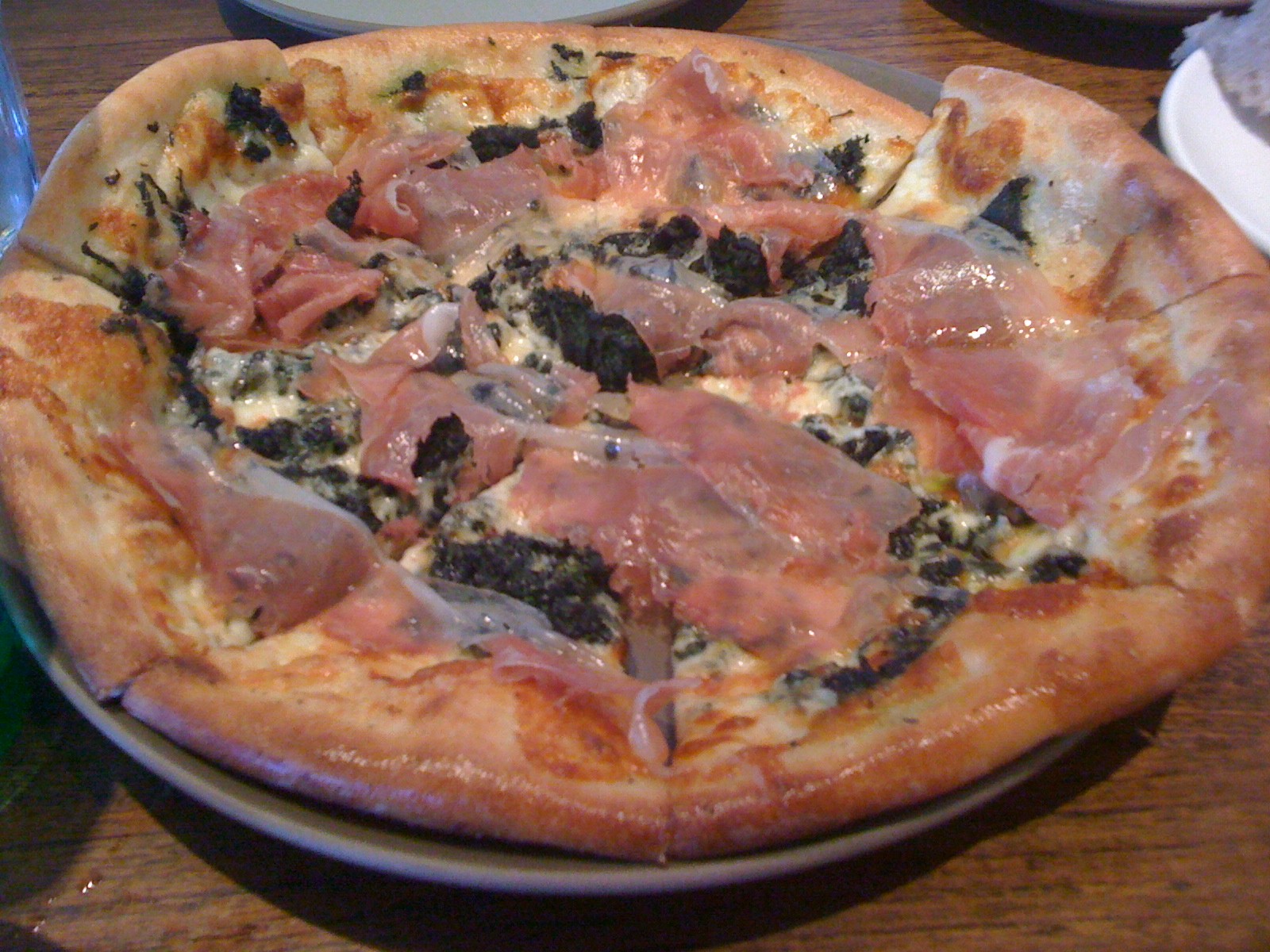 We changed our pizza order to the prosciutto pizza with nettles. I could taste the great quality of the toppings, but it isn't my favorite type of texture for the dough. The crust is thin, but tasted more like bread. I prefer my crust to be a bit more crispy on the outside and airy on the inside. If you want good pizza from Marin, I highly recommend Pizzeria Picco in Larkspur.
We ordered the rice pudding with strawberries for dessert. This was actually very delicious and beautifully presented coming out in a canning jar. The sweet strawberries and mint complimented the creamy pudding very well. It was topped with cute star shaped shortbread cookies that were light and crispy.
My first visit had been flawless and I was excited to let my friend experience this new restaurant. Although the food was mostly good, I think the experience was a little disappointing. Partly because we could not have the oyster pizza, but also because the service was inconsistent. It was slow at times and I could tell that the people at the table next to us were unhappy that they didn't get bread and had to walk up to get their beverages. They also never brought out our doggie bag (we had ½ a pizza left) and forgot about it until after we had left the vicinity.
Nick's Cove overlooks Tomales Bay and offers great views and the restaurant offers wonderful fresh and local food. This restaurant reopened in 2007 and the brain behind it was Pat Kuleto, restaurant designer of famous restaurants in San Francisco such as Farallon, Boulevard, and Jardiniere. The restaurant itself is casual, warm, and inviting.
I started with a fun cocktail.  Their bellini was  made up of champagne and a white peach puree.  It was a refreshing beverage on a beautiful day and was going to go with with the oysters that we were about to order.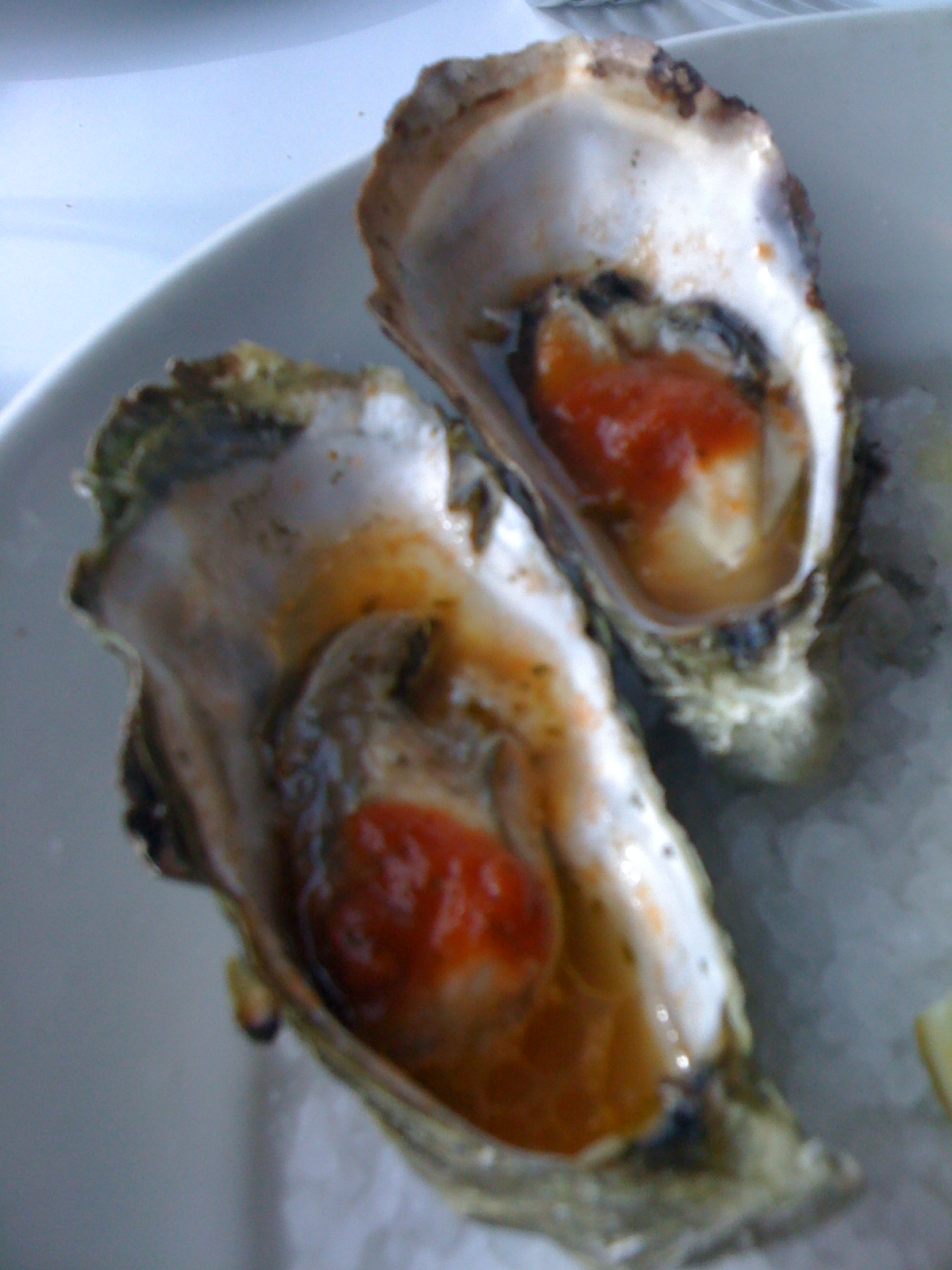 What kind of oysters would we get?  Oysters on the half shell, bbq, or oysters rockerfeller?  I remembered previously having the bbq ones and remembered them to be very good so we ordered those to start. The bbq flavor of the oyster comes from the cooking method, but they are also topped with a nice sweet and smokey bbq sauce.
My entrée was a skirt steak with a mango salsa and plantain chips. This was cooked perfectly as requested and went very well with the cooked down parsley that it was topped with. The steak offered a Tex Mex flavor when you mixed in the salsa and I enjoyed it very much. The plantain chips were crisp, light, and yummy. I wish I could buy a bag of these.
My friend ordered the pork shoulder that came with cannellini beans.  The pork was very tender and must've been cooked for hours.  The flavor of the pork was quite sweet and wasn't what either of us expected. 
We shared a side of roasted cauliflower. We were impressed with the great flavor and texture that the roasting offered. The cauliflower was sliced which seems like a nice trick to cook more evenly.
For dessert we had the warm dark chocolate espresso cake with strauss coffee ice cream, topped with toasted hazelnuts and chocolate sauce. To be honest, we started off sharing one. It looked so good that I rushed to take a bite without taking a photo. I just had to order another just so I could capture the photo! Well, since it was ordered, I couldn't let that go to waste. Every bite was perfect as long as it had a little cake, a little ice cream, a little bit of nuts, and a dab of sauce.
Although a little bit spendy, I always have a great overall experience at Nick's Cove. The food and service is always good and the location is priceless. This area of Point Reyes/Tomales Bay is worth the drive any weekend to come to a scenic place to enjoy nature. The drive itself is very pretty. I was lucky to come for a work conference, but I recommend the area as a destination location. I haven't given up on Osteria Stellina, but I do hope they make some improvements in the area of service.