The Wayfare Tavern, San Francisco
After having dinner at Wayfare Tavern in San Francisco, I am now in love with celebrity chef Tyler Florence.  He is the star to several Food Network shows, but I never thought too much of him before this.  Maybe I was unimpressed because he was the spokesperson to Applebee's.   Anyhow, my BFF (Best Friend Forever), my FC (Food Companion), and I had reservations for Wayfare Tavern about two months ago.  The restaurant was getting some buzz only having been open since June of this year. 
The Wayfare Tavern is very American and so is the fare. Deer heads adorn the wall and the restaurant logo includes an eagle that is imprinted on their white plates. 
The first thing I was impressed with were the warm popovers.  Popovers are hollow rolls that are made from an egg batter.  My first memories of having them were when I was 17 years old working at a retirement home.  Whenever there was a private party, it was not unusual for the host to request these delightful treats.  The server came by to offer us seconds which we all gladly accepted.  Apparently, you can get unlimited popovers, which is pretty generous.  We had to pass on the third offer or we wouldn't be able to eat our meal.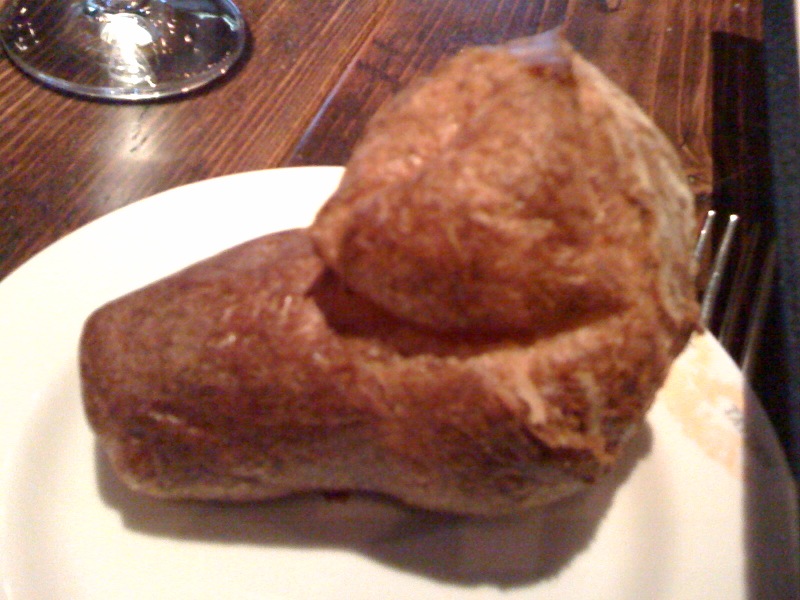 BFF's meal:
She ordered two appetizers, which were two of her favorite things.  She got the roasted tomales bay oysters which came with carrot butter, chorizo sausage, fennel, and chives and the steak tartare which came with French mustard dressing, shallots, capers, organic egg yolk, Tabasco sauce, and summer herbs.  She shared an oyster and a little tartare with me.  The oysters were full of flavor, but maybe a bit too much for my taste.  I thought the sausage was a bit overwhelming and overshadowed the oyster.  The steak tartare was also pretty tasty.  The BFF seemed to enjoy them both.
FC's meal:
He ordered the California avocado and hearts of palm which came with cucumber, shaved onion, cilantro, and lime dressing.  Although this dish didn't sound too exciting at first, it was very impressive.  The restaurant must be tipping the avocado farmer very well because it was the perfect avocado.  This dish blended well together. 
The FC ordered the crisp Alaskan halibut with stewed artichokes and tomatoes, artichoke puree, summer truffles and chervil.  I didn't try this, but the next time I looked at his plate, it was clean.  In addition, he ordered a side of creamed corn for the table, which was a very basic dish that was brought to a new level.  It was cooked with smoked olive oil and chive blossom.  The sweet corn held its crunch. 
My Meal:
I ordered the heirloom tomato bread soup to start.  The server gave me a bowl with toasted sourdough croutons with capers, basil, anchovy, and smoked chili oil.  He then poured the tomato soup over the accoutrements.  I was impressed with the display and show.  I thoroughly enjoyed the soup as it was a good balance of flavors.  I've never thought of bringing tomato soup to such a high level of quality.  My BFF seemed unimpressed that the server did not mix her steak tartare. 
I chose the smoked pork chop as my entrée.  It came with marcona almond butter, roasted peaches, and a fennel puree.  It was humongous and delicious.  It was tender, juicy, and flavorful.  I ate about one third of it and I as I write this, I am excited that I will get to have this as another meal.
Dessert: 
We were given complimentary mini ginger snap cookies to start.  They were hot out of the oven, soft and delicious.  After seeing the large dessert that came to the table next to us, we decided to share one.  We ordered the pineapple upside down cake with macadamia nut brittle, salted caramel ice cream, and marinated bing cherries.  I don't recall any bing cherries, but that's ok because whether it was in there or not, this dessert was to die for.  I loved it.  The BFF and FC may have thought it was too cakey, but I have to disagree.  I thoroughly enjoyed the dessert as well as everything else I ate.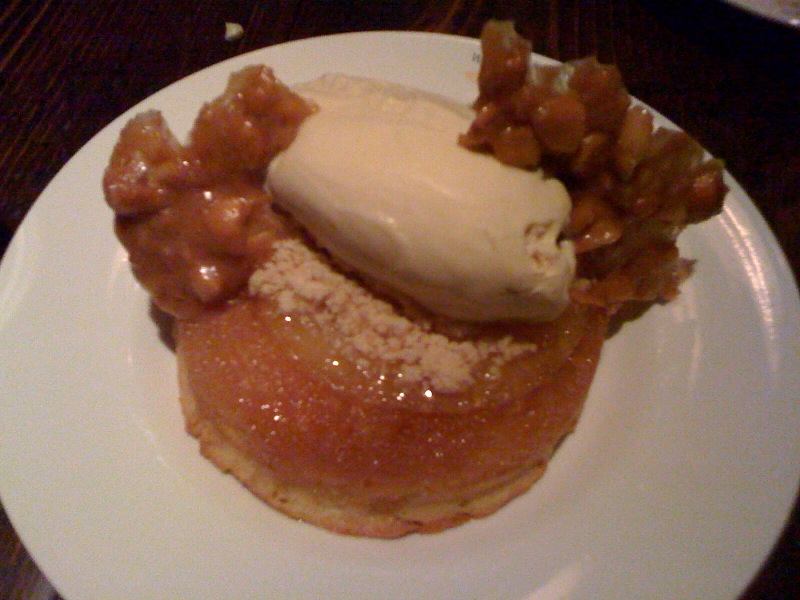 I learned that Tyler Florence is a transplant to the Bay Area and calling it home.  I'm excited to try two more restaurants he is currently working on, one in Mill Valley (where he lives) and one in Napa.  I will eagerly await its openings.